It's the end of the year, so New York Magazine is out with its eighth annual list of reasons to love New York.
Click here for the full list of 74 Reasons to Love New York , among them a bookworm knuckleballer who won twenty games, a Wall Street crook with a literature Ph.D., who became a top boxing trainer, a visionary parks commissioner who greened up the city, a Disneyfied stretch of Times Square that got its scuzzy soul back, and a Sandy-ravaged neighborhood that pulled together to survive the chaos. And don't forget: the city's penchant for outdoor sex, one high school's endless stream of talent, and a mayor and a governor who talk about real issues other politicians ignore.
It's a good list, including comments on Robert De Niro, Anne Hathaway, Hillary Clinton, Derek Jeter, Saturday Night Live, and more.
Still it was the cover that caught our eye.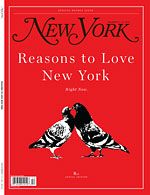 While we realize the drawing suggests that the pigeons love NYC, and may even be in love, we can't help but think of the alternative interpretation that the editor is suggesting that pigeons are a reason to love NYC.  We doubt that, given how busy our Bird Control division has been of late.
In fact, New Yorkers who bird proof their buildings, and balconies to keep pigeons and other pest birds away seem to love New York even more than other residents.